For over 15 months I've been working on our full-door ligature alarm. This process started before the Design in Mental Health event in 2017, where we demonstrated a crude prototype to gain voice of the customer (VOC) feedback.
Since then, we have developed it into a functioning product, which was awarded Product Innovation of the Year at this year's DIMHN awards. This is one of the first truly 'smart' products we've developed at Safehinge Primera and my experience in electronics and programming were put to good use. We also brought in world class sensor expertise from people working in this field for over 50 years combined – including a Forumula 1 engineer.
Designed with your requirements built in
During our 15-month VOC exercise, we took input from more than 40 groups and individuals;
Estate teams asked us to eliminate the disruption and cost associated with installation of hard wired door-top alarm systems – so we made the alarm wireless.
Clinical staff told us that a door-top alarm was only partially effective because it simply moved the ligature risk to another part of the door.
Ward staff also highlighted the frustration of false alarms with current door top systems, something we knew had to be eliminated.
Architects asked what we could do to make it discreet to avoid institutional aesthetics.

Working through an iterative process with our product design team – as well as embedded systems engineer Craig Easdale – I balanced these conflicting requirements.
The huge amount of design and engineering time spent developing the product was recognised by the Design in Mental Health Network judges, commenting that we "were selected not just for the product, but the time taken to research and then trial this solution."


An iterative process: Overcoming the challenges
We worked with CENSIS to identify and evaluate sensor technologies that could achieve full-door load sensing.
Developing a reliable means of sensing abnormal loads on the door was an incredible challenge, in fact, such the challenge, we wondered whether we'd met our match during the process. The most difficult part is that the sensor detects day-to-day movement of the door, so we had to incorporate an on-door computer to process what was normal use and what should be alerted as a ligature event.
The other major challenge was creating a robust sensor, suitable for challenging environments like Mental Health bedrooms – that's why we created a pivot strap with sensors built-in. This provides extreme sensitivity and allows us to detect as little as 0.1mm movement or 3kg of load on the door.
Plus, we built it into a solid-state sensor (ie. no moving parts) to ensure it cannot be easily damaged.

Minimising the blind spots in observation
Where I think the door alarm really adds value to Mental Health environment is around minimising blind spots. It reduces false alarms, minimises tampering and helps stretched clinical resources go further.
We know that unexpected deaths in Mental Health Trusts in England have risen 50% between 2014 and 2017 and 91% of in-patient deaths occur under intermittent observations.
By minimising the blind spot that currently exists between observations, detecting more suicide attempts on the door, earlier, by monitoring ligatures across the whole door, and enabling staff to respond faster to them, I believe our full-door alarm is part of the solution.


Ligatures are detected across the door:


Latch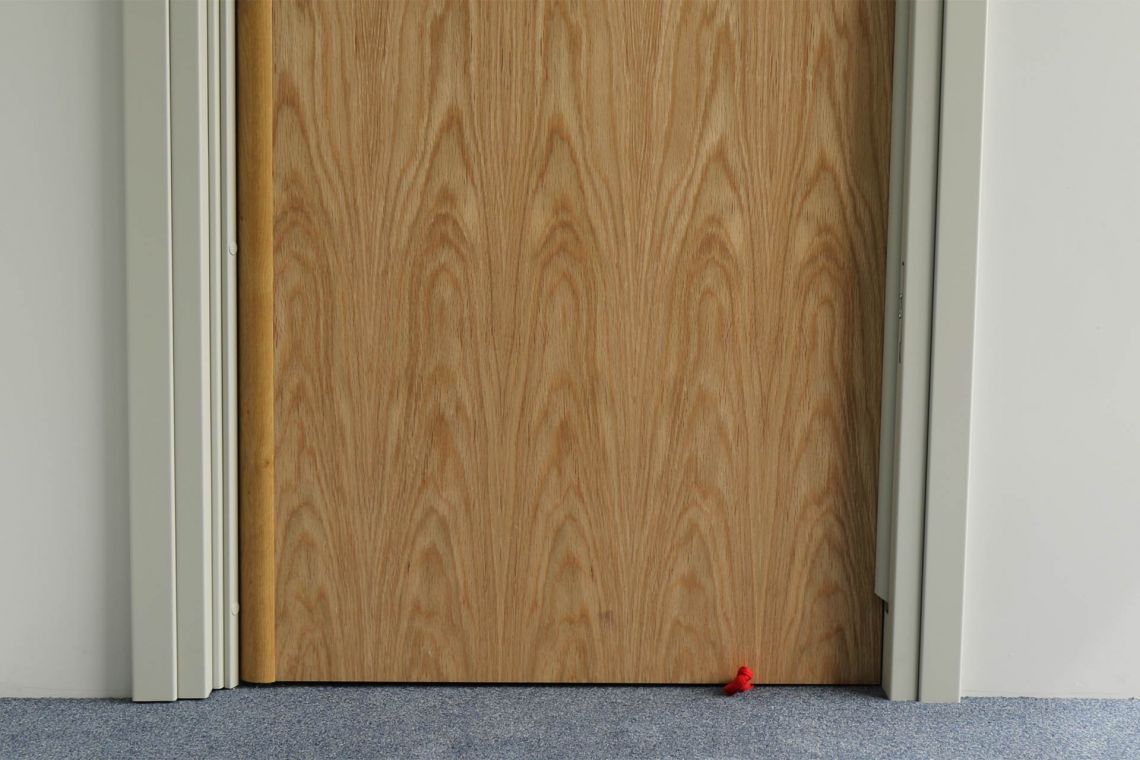 Threshold
Explore our full-door alarm yourself
Our full-door alarm is best seen in action.