It's with great pride that we can officially say the world's first full-door ligature alarm is now market ready!
Like any first of its kind, it hasn't come without its challenges; but with over 700,000 hours of testing across various live trial sites, ongoing customer feedback and meticulous engineering iterations, we're now delighted to be able to offer it to the market.
We truly believe that this will not only improve the lives of staff by supporting clinical care, but help to save the lives of people going through a vulnerable time.
With all the hard work and excitement that comes with this milestone, I've enjoyed taking a moment to reflect on how we got here.


Lightbulb moment
It all started during a demo of our en-suite door to an NHS trust. We'd recently completed the development of the product and it was one of the first times we'd presented it to our customers.
The trust that we were presenting to graciously listened to us reel off the lifesaving details of the en-suite. Then, when we finished, rightly stated that we had simply moved the highest risk point to the bedroom door.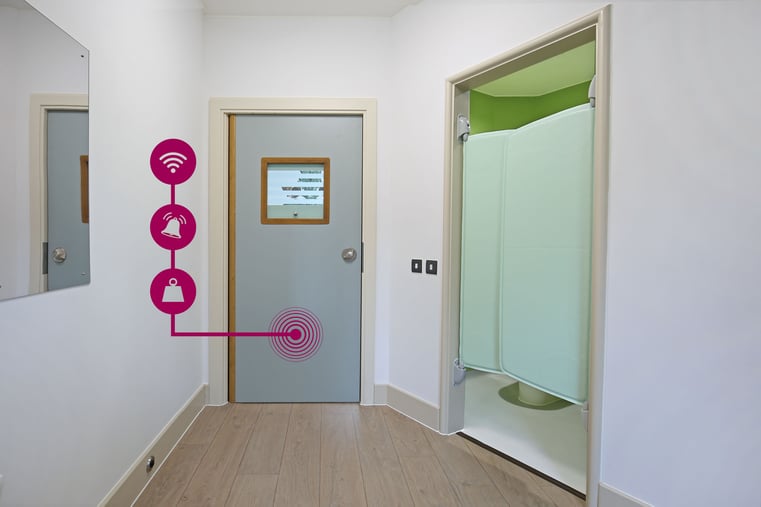 Image: Internal bedroom view of our anti-barricade door with full-door alarm and en-suite door


Back to the drawing board
We'd dramatically improved the biggest unsupervised risk in the bedroom with the en-suite door design; but we were reminded of a sad reality. If a patient is intent on taking their life, they're likely to focus their efforts on the next obvious area for creating a ligature - the bedroom door.
We knew that door-top alarm systems were available as a means of detecting ligature attempts. Developed around ten years ago, we see door-top alarms adopted as a means of alerting clinical staff to ligature attempts made on the top of the bedroom door. But with a noticeable metal strip attached to the door, these alarms are institutional by design; and most importantly, they don't address all risk points on the door.
How could we as designers develop an alarm that not only reduced the risk, but also helped to create a more therapeutic bedroom environment that reduced ligature appetite and facilitated recovery?


Voice of Customer feedback
With a few initial ideas in mind for an improved alarm system, we started gathering your feedback. We asked you what features and benefits would be important to you - here's what you told us:
Full-door ligature detection - not just the top
Improve safety between 15 minute observations
Minimise false alarms
Avoid institutional aesthetics
Reduce disruption to live wards during install
It's with this feedback that we set out to develop the world's first full-door ligature alarm.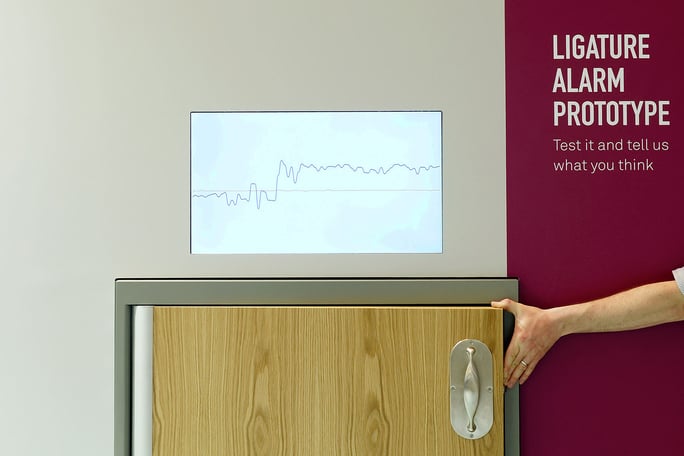 Image: Ligature alarm prototype

Live trial sites
As with all of our products, we put the full-door ligature alarm through rigorous testing. Once we were confident, we approached various NHS Trusts to form seven separate trial sites. Over the next 18 months, we went back and forth to each site; analysing performance and data and iterating the system accordingly.
In total, we tested 111 live ward bedroom doors across the seven sites - amounting to 717,480 hours. We knew that when we got this alarm right, that it was going to save lives - so we put the time in to get it there.



Image: Weight sensor testing by project lead Gus Thomas

With the trial sites spread across the UK and the limitations of remote assistance whilst the system was still in development, things weren't always straightforward! We'd like to extend our gratitude once more to the Trusts involved for your patience and of course to the brilliant engineers and service team for going above and beyond.
We're delighted that the hard work has paid off after receiving this feedback from one of the Trusts involved in the trial phase:
"The alarm gives staff confidence of early detection if an incident is to occur - especially given there are patients who have fixed ligatures previously.
It creates a less restricted environment and in the 12 months we've been open we have had no attempts of a fixed ligature on the bedroom doors. We can't be certain but we think this is because the alarm is acting as a deterrent."

- Karyn Roberts, Sowenna CAMHS Inpatient Unit, Cornwall Partnership NHS FT
The complete offering
This is the perfect example of SHP going back to first principles to truly deliver on customer needs rather than taking an easier, faster route. Whilst that was challenging, I've every confidence it was worthwhile for the extra safety it offers and the lives we believe will be saved as a result.
We're delighted that the full-door ligature alarm now joins our en-suite door and integrated override lockset to supply mental healthcare providers with a full suite of products that improve safety and patient autonomy.
We look forward to working with many more providers who share our passion for creating safe spaces that facilitate recovery.