Design in mental health online:

solve the biggest ligature risk in mental health
We're delighted to share the recording and resources of the webinar 'Solve the biggest ligature risk in mental health' as part of our involvement in Design in Mental Health Online.
Spoiler: Doors present the greatest ligature risk in mental health inpatient facilities.
Clinical staff can't be everywhere at once; and the integration of assistive door alarm technology is increasing. With different options available, how can you make the most informed decision?
In this webinar, we discuss:
Research and feedback from clinicians and estates teams demonstrating the need for full-door ligature detection

Key considerations when selecting a ligature detection system

Mental health care providers who are saving lives with the integration of full-door ligature alarms
Watch the webinar in full below:
Click the image below to view the presentation slides: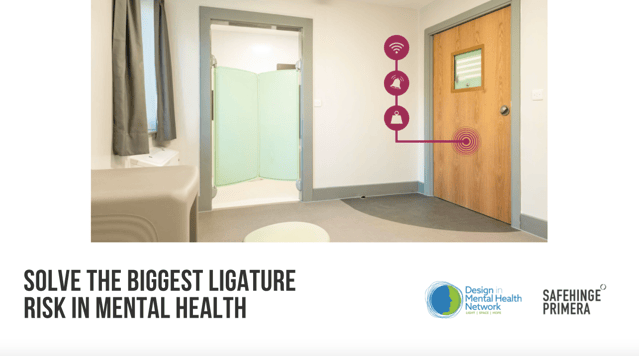 Other useful resources


Reports we've referenced:

Recordings of previous SHP webinars:
Full-door ligature alarm
Detecting ligature attempts made on any part of the door.
Full-door ligature alarm: online dashboard
Providing real-time status of all doors fitted with the alarm.

Featured case studies: