When I became a part of the SHP team at the end of last year, I was struck by the company's passion. I thought 'this isn't just another organisation paying lip service' - there is a genuine passion for improving peoples' lives. I felt immediately excited to be a part of something so significant!


Hitting the ground running

My first internal meeting was to kick-off the planning of Design in Mental Health (DIMH) 2019 – so my SHP journey so far has been very much in tandem with the planning of this year's show.
Our seventh consecutive year exhibiting, DIMH 2019 was set to be our biggest one yet in a number of ways. We had the largest stand to date at 54m² which meant we had the perfect stage to present our growing product range, growing project experience and growing team (no pressure!)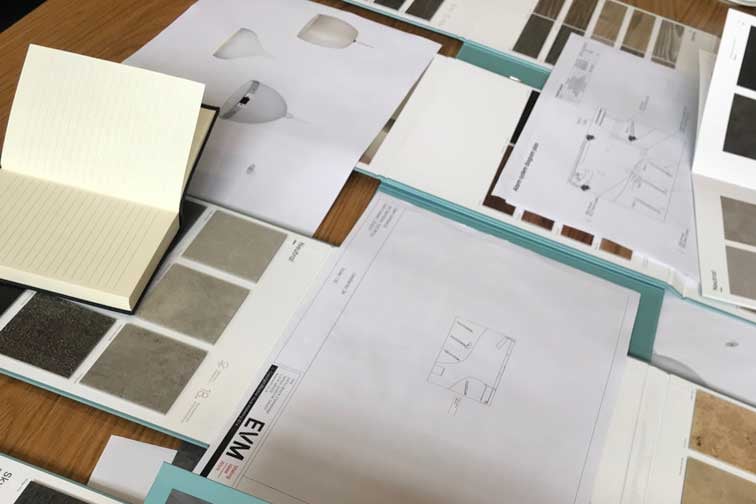 Alongside the rest of the planning group, we set out to create a stand that was in keeping with contemporary Mental Health design and one that reflected our growth and passion. We don't like to make things too easy for ourselves around here...
Multi-talented SHP Design Engineer, Shaun, came up with the design concept for the stand which consisted of our doorsets displayed under a wooden canopy. The idea was to create a welcoming calm amidst a busy exhibition - a safe space for people to talk openly about their challenges and opportunities.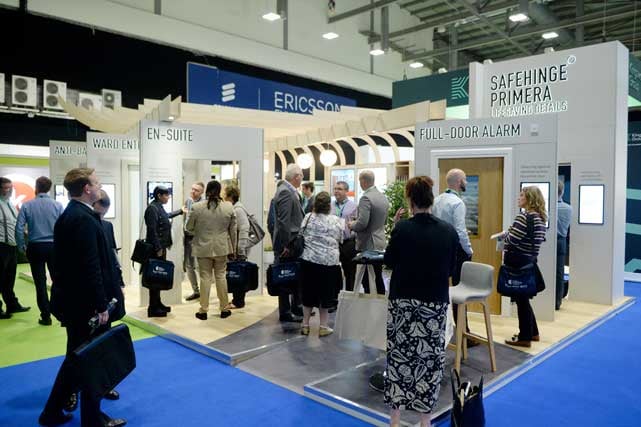 Lifesaving Details
Creating the right feel for the stand was the more difficult part - next on the agenda was nailing down the spec of the doors to be displayed. In my view, this task was much easier as, upon exploration, I think the lifesaving details of our products speak for themselves.
In previous years there had been a number of products on the stand that were still in development - while we are still driving forward innovation, we wanted to focus on presenting products that are installation-ready and are already being so well received in projects throughout the UK.
EN-SUITE: Privacy and dignity with unrivalled safety.
Winner of the DIMH Product Innovation of the Year in 2017, our en-suite is unlike anything else on the market. I had the benefit of seeing it for the first time through the eyes of the customer - as a finished product. I was so impressed with the level of thought that went into the design which is based on stakeholder feedback at every stage.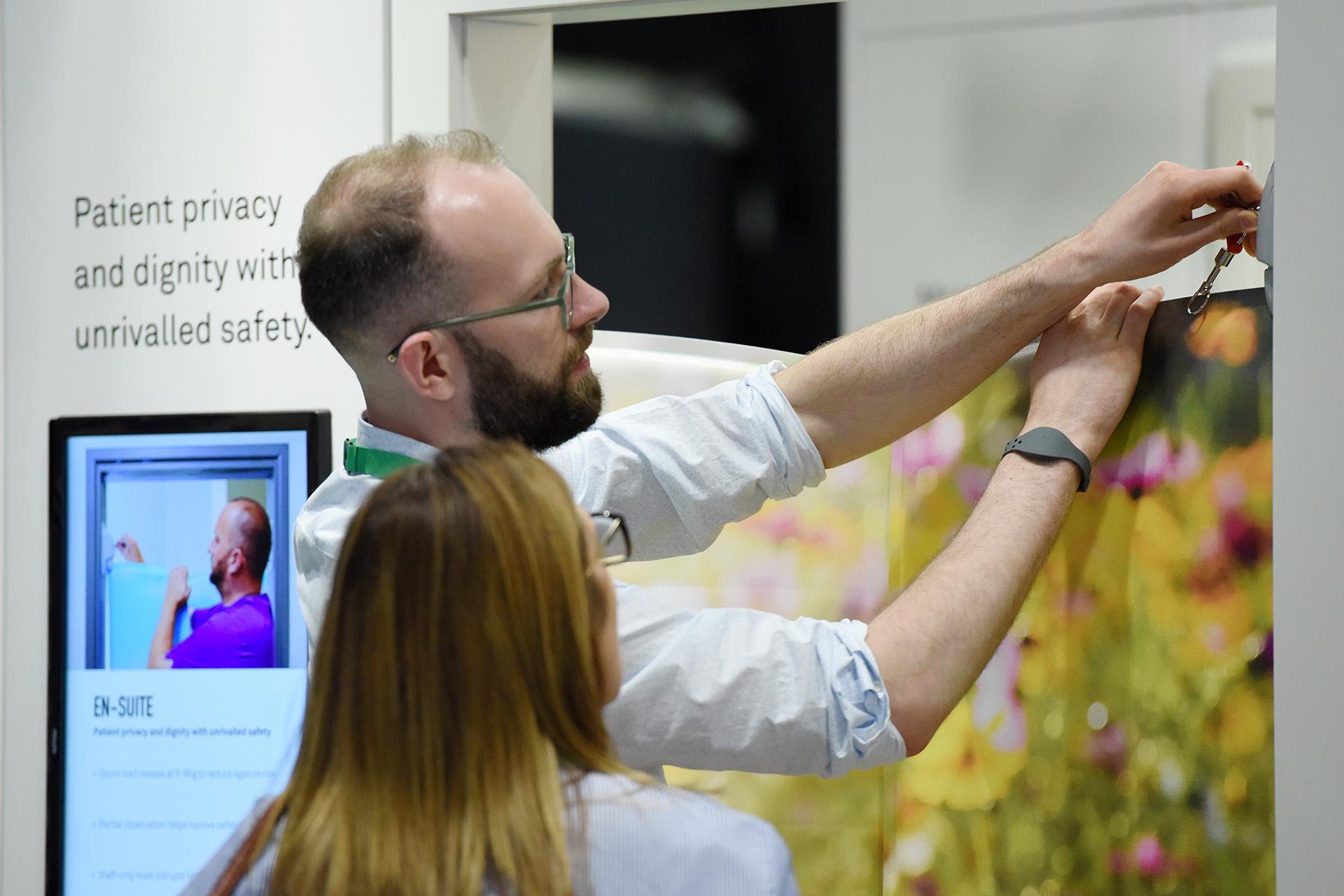 It considers patients' privacy and dignity, there are no-known ligature points and staff can still carry out observations – just a few of the en-suite's lifesaving details.


ANTI-BARRICADE

: Reliable, fast access. Even under pressure.
Coming from a non-technical, non-engineering, non-Mental Health background, it took me some time to fully appreciate how vital the design of patient bedroom doors is. With so many factors to consider from so many different perspectives (robustness, safety, durability, ease of installation, aesthetics etc.), I'm now in awe of all of the intricate details of our anti-barricade solution. It keeps patients safe while ensuring staff can always gain access in just 2 seconds - even in the most determined barricade scenarios.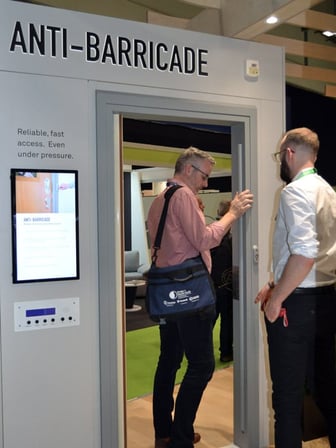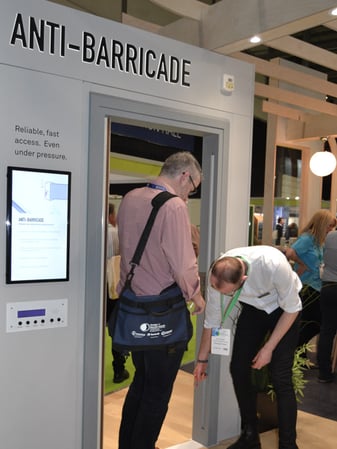 We had two anti-barricade doors on the stand, each fitted with our collapsible anti-barricade stop and our full-door ligature alarm.


FULL-DOOR LIGATURE ALARM: Detecting ligature attempts across the entire door.
Like many of our products, the more I learn about the thought process behind them the more passionate I become in talking about them. Based on feedback from clinical staff, estates and capital teams, experts by experience and architects, it was clear that existing door-top alarms were not providing a reliable solution to the detecting of ligature attempts.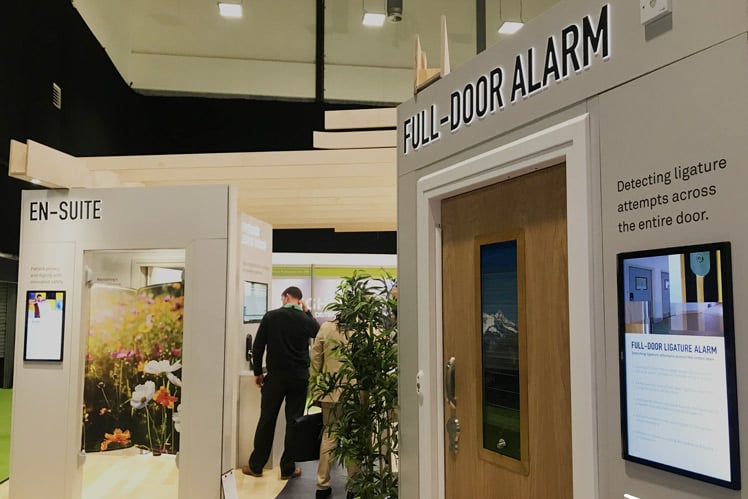 Our full-door ligature alarm essentially turns the door into a large weighing scale and intelligently differentiates between everyday behaviours (such as hanging a towel on the door handle to dry) and ligature attempts.
I think the alarm is a perfect example of how we, as a company, listen to and understand the challenges facing those working in Mental Health environments and develop a lifesaving solution.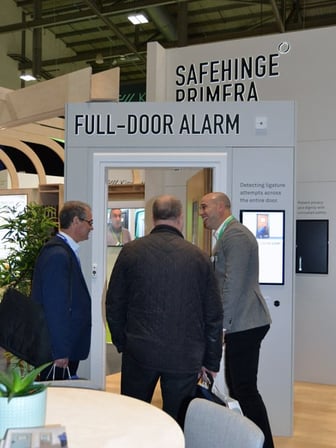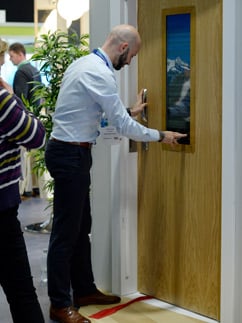 It's no surprise that the full-door alarm garnered a lot of attention at the show and we were delighted to tell visitors on the stand that it will very soon be available for installation!

WARD ENTRY: Maintaining a safe and secure ward.
After talking it through with the field experts (aka the SHP sales team) it was decided that we would have a ward entry door on the stand this year instead of a seclusion door which there had been in previous years. Having listened to customers and from their experience on live wards, the sales team recognised the increasing focus on keeping wards safe and secure for both patients and staff.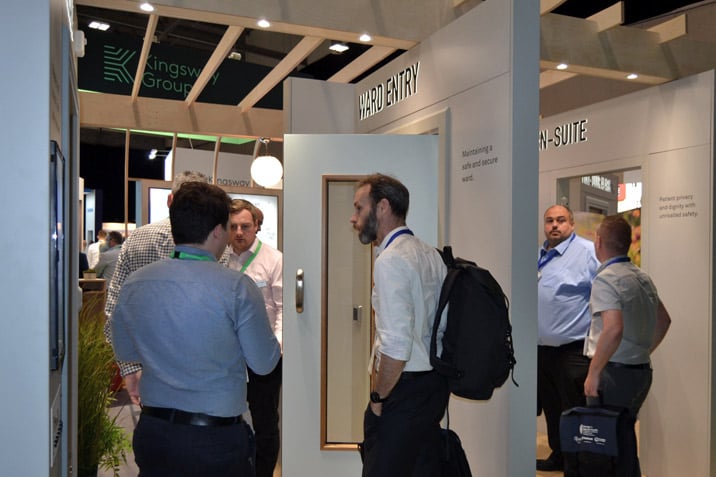 Ward entry doors can encounter a lot of abuse so we wanted to be able to demonstrate that robustness doesn't have to come at the expense of aesthetics. We displayed our FD30 rated door in a calming aquamarine colour with the addition of our latest anti-ligature handle Suregrip that has no visible metal backplate or fixings. For me, this door was the perfect example of the recovery-led aesthetics that we're championing. Safety doesn't need to be institutional.


ELECTRONIC ACCESS CONTROL: Reducing restrictive practices; empowering patients
Another aspect of SHP that's growing is our electronic locking and access control offering. For the first time, we had a dedicated Electronic Access Control (EAC) area for visitors on the stand to experience a full demo of our system which allows remote programming and real-time updates on all electronic access points on a ward.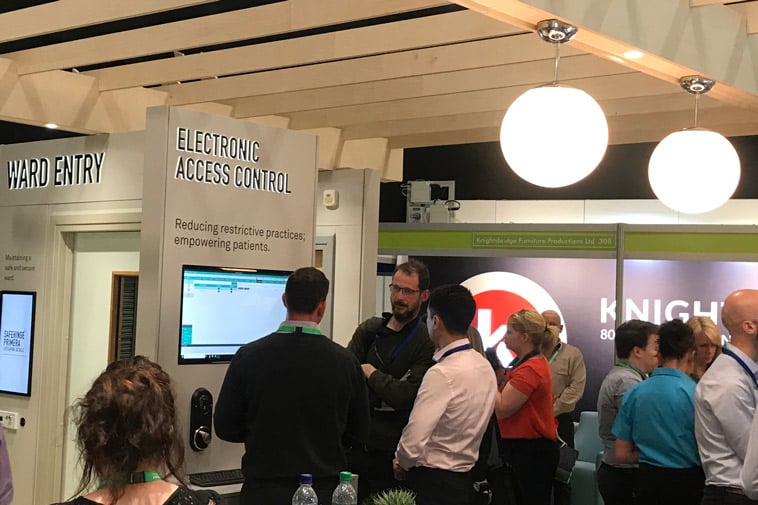 Until next year...

You could say Design in Mental Health has been my baptism of fire, but it made me learn – fast. I learnt a great deal about our products, the market, and our customers. I had a moment to myself on the stand towards the end of day 2 where I stopped, had a look around and felt a great sense of pride. We'd created a space for meaningful conversations between like-minded people passionate about improving peoples' lives through design.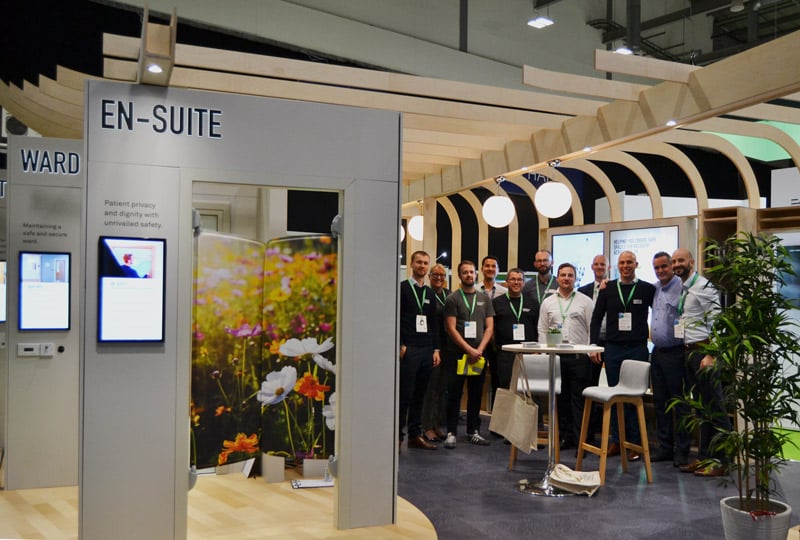 Thank you once more to everyone that visited us at the show. As ever, we really enjoyed listening to your current challenges within Mental Health inpatient environments and demonstrating how our products can help you. It's these discussions that inform the design of our products with lifesaving details.
If you have any feedback on this year's DIMH, or indeed anything else we do, we're always happy to receive it! Give us call us on 0330 058 0988 or email marketing@safehingeprimera.com