Doors present the greatest ligature risk in mental health inpatient facilities, but clinical staff can't be everywhere at once.
The integration of assistive door alarm technology is therefore increasing. In a recent webinar as part of Design in Mental Health Online, we discussed the differences between door-top alarms, door-edge systems and the full-door ligature alarm.
During the session, we were delighted to see so many of you engaging by submitting your questions! You'll be able to catch up on all of these at the at the end of the webinar recording, but we thought we'd pull out some of the most common questions for you to have a quick look over.
Q: Does the full-door alarm use wireless or hard-wired technology?
A: Wireless. This enables quick, easy installation with minimal disruption and can often provide a stronger, more reliable connection than a hard-wired system. The wireless system has gone through CE and FCC testing - the two major protocols to go through when supplying and installing wireless products in the UK, EU and USA.
The lack of wiring and visible infrastructure to the door keeps costs down and also helps to create a more therapeutic environment.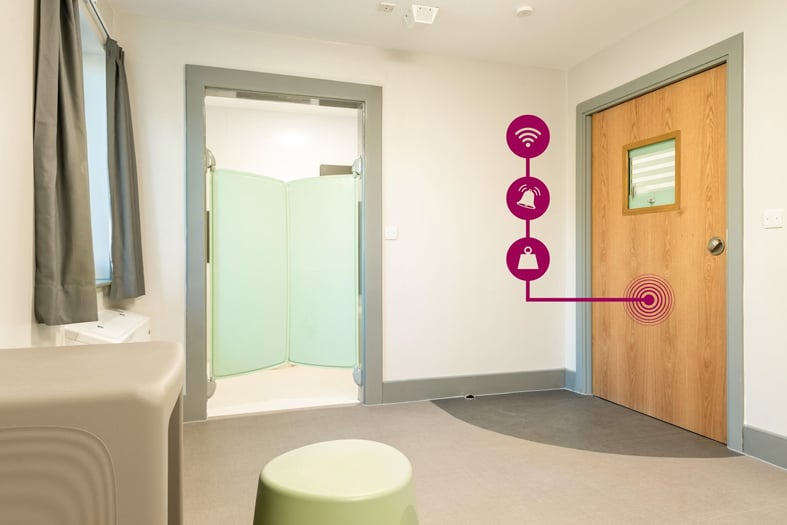 Q: Does the alarm trigger in both the open and closed positions?
A: Clinicians told us that false alarms with alternative door alarm systems were common and were often triggered when the patient's door was in an open position (e.g. when the door was leaned upon.). They also stated that in their experience, 100% of ligature attempts were made on closed doors.
This is backed up by evidence from The National Confidential Inquiry into Suicide and Safety in Mental Health (NCISH) which tells us that there is a direct correlation between patient privacy and self-harm:
90% of ligature attempts occur in the patient's bedroom or bathroom (private space)
91% of these occur under intermittent observations
The greatest risk is therefore when a patient's door is closed. However, we've future-proofed our full-door alarm so that it also triggers in the open position. Find out more about the development here.
Q: Can doors with full-door alarm be made to fit various openings?
A: Yes. All of our doors are custom made based on our pre-production survey of the ward. This includes openings that require a particularly narrow or extra wide single leaf door - or an unequal pair of door leaves. The alarm will be triggered on either the primary or secondary door leaf if an abnormal weight is applied.
It's worth noting here that the anti-barricade doorset with full-door alarm is available with either mechanical or electronic locksets.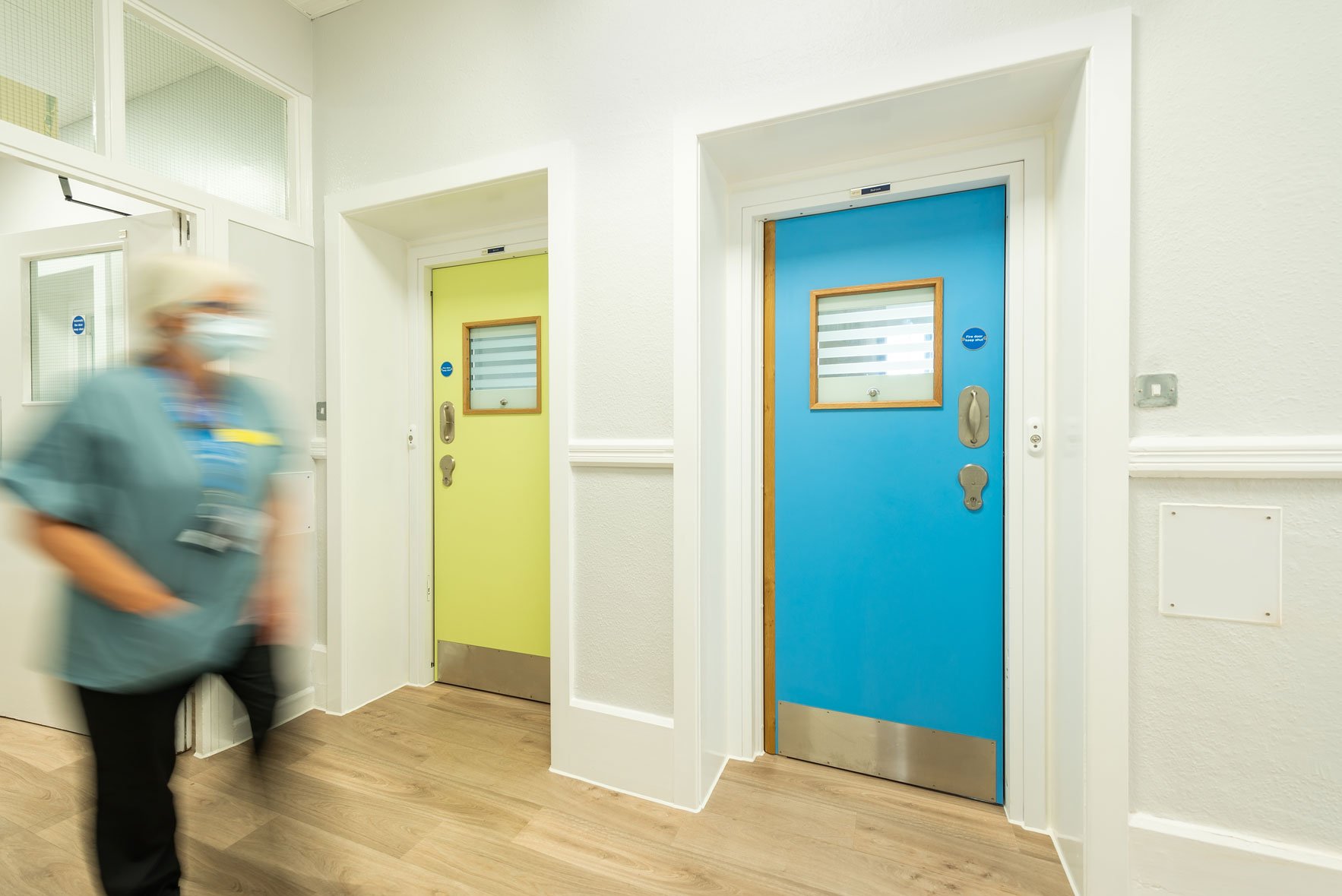 Q: What is the cost uplift of the full-door alarm compared to door-top/door-edge systems?
A: The cost uplift is minimal and this is largely down to the fact that the system is wireless. We always encourage you to get in touch with your project requirements and we can provide a more detailed cost breakdown.
Q: What maintenance is required for the full-door ligature alarm?
A: Each receiver is battery operated and can be easily changed on-site by a member of staff. You should only have to do this around once or twice per year. Watch the step-by-step video of how to do this here.
The good news is, with the development of the online dashboard which allows you to monitor the status of all alarms using any device with an internet browser, you don't have to worry about manually checking every door. The system does it for you! As part of our aftercare support package, you'll get email alerts when something needs attention.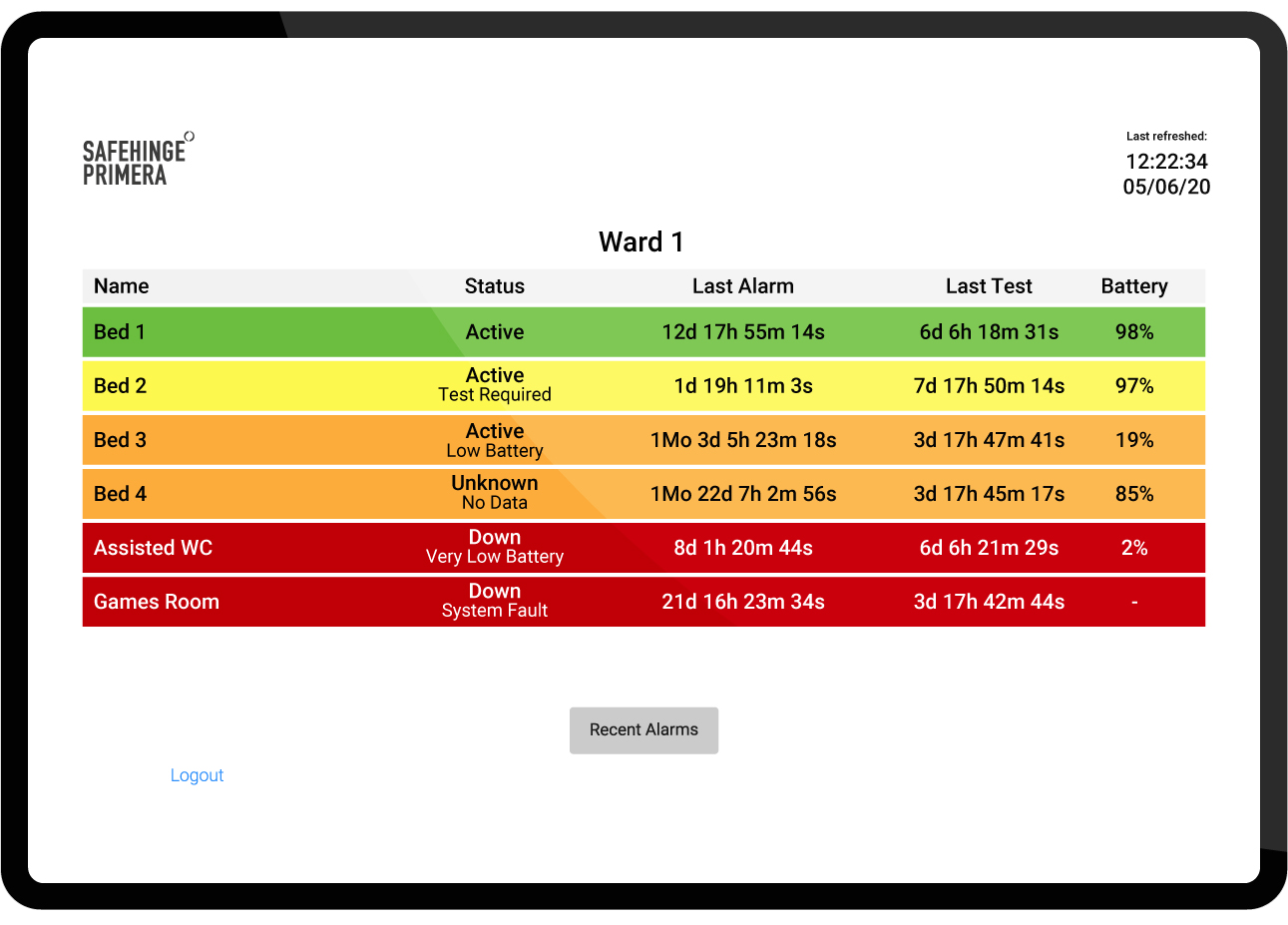 Q: How robust are the doors with full-door alarm?
A: All of our products, including our anti-barricade doors with full-door ligature alarm, undergo rigorous testing and are FD30 rated. Our abuse testing is designed to simulate the physical abuse that our doorsets may be exposed to in a Mental Health environment.
Testing each part of the doorset and covering a range of attacks such as heavy body impact using a paving maul as required within the Medium Secure Guidance document, they ensure that our doorsets can withstand extreme abuse.
We share all of our testing videos on our website; including a workshop we hosted with Bradford NHS in 2019 after they raised concerns about the robustness of our pivot hinge system. Have a look here.
---

To hear more detailed answers to these questions and others asked by webinar attendees, click the button below to watch the recording (Q&A starts at 40:00)