When we first launched our full-door ligature alarm in 2020, it was the first and only of its kind in the world. Two years on, I'm heartened by the knowledge that it has repeatedly proven its lifesaving capabilities through the detection of ligature attempts anywhere on the door.
Cornwall Partnership NHS Foundation Trust and Bradford District Care NHS Foundation Trust are just two of the multiple trusts that we work with who have told us about the alarm preventing the loss of life on their wards.


"I am happy to say that the full-door alarm system in the first two months [since install] has prevented two suicides already. For me that proves the investment is worth it."
- Simon Adamson, Deputy Director Estates and Facilities Bradford District Care NHS Trust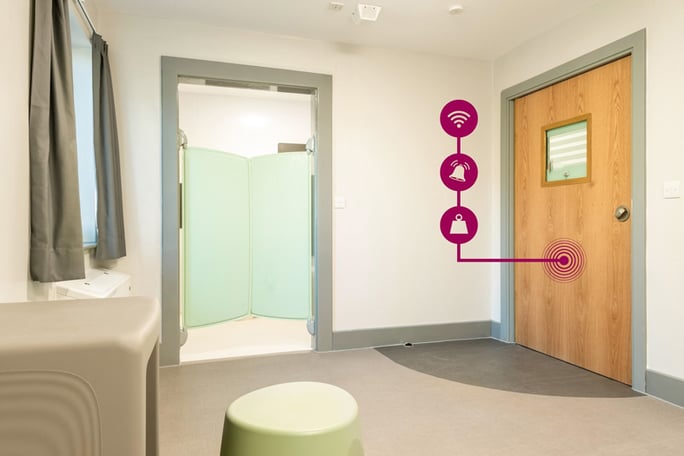 Skelbrooke PICU, Rotherham Doncaster and South Humber NHS Trust

Voice of Customer: Preventing false alarms
The voice of our customers runs through the DNA of Safehinge Primera, and that's not exclusive to the development phase. Since launching the full-door alarm, we've continued to seek feedback from mental healthcare providers with our alarm installed, those with alternative alarm systems and those without alarms installed.
We've learnt a lot about how clinicians and patients interact with door alarms. One particularly interesting point clinicians told us, is that false alarms with alternative door alarm systems are common and often triggered when the patient's door was in an open position (e.g. when the door was leaned upon.) This is due to the visible metal hardware of the alarm that is attached to the door edges.
Which is just one of the reasons why our alarm is built into the door, providing full-door coverage and intelligently filtering out false alarms. It also facilitates a less institutional, more therapeutic environment for patients.


Privacy = risk
Clinicians also stated that in their experience, 100% of ligature attempts were made on closed doors. This is backed up by evidence from The National Confidential Inquiry into Suicide and Safety in Mental Health (NCISH 2021) which tells us that there is a direct correlation between patient privacy and self-harm:
90% of ligature attempts occur in the patient's bedroom or bathroom (private space)

1

91% of these occur under intermittent observations
The greatest risk is therefore when a patient's door is closed.

Future proofing with open door sensing
However, we also know from feedback and research, that risk can quickly evolve within mental health inpatient environments. That's why we're future-proofing our full-door alarm to detect ligatures when the door is in open and closed positions.
It's still in the final development stage, but it'll soon be a feature of all future full-door ligature alarm orders. It's also good news for existing SHP door alarm customers! Given that we've developed it all in-house, we'll be able to update existing software with the latest version as soon as it's been through final sign-off.
Thank you to all of those that provided feedback. It's this intel that allows us to keep pushing forward and solving not just yesterday's problems, but tomorrow's. Together, we design for good.