Last week, we shared the news that integral finger guards have been included in the Department for Education's Modern Methods of Construction framework for new school buildings in England - accounting for approximately 30 new build schools a year with a pipeline of £3bn.
We felt this called for a look back at how we got to this major milestone.

Where it all began...
Martin and I both studied Product Design Engineering in Glasgow; a degree that was split between the Glasgow School of Art and the University of Glasgow.
During our last year, I had a concept for a design competition. Martin had won the competition the previous year and very kindly offered to help me out. Well... that collaborative competition entry ended up producing what we now know as Alumax.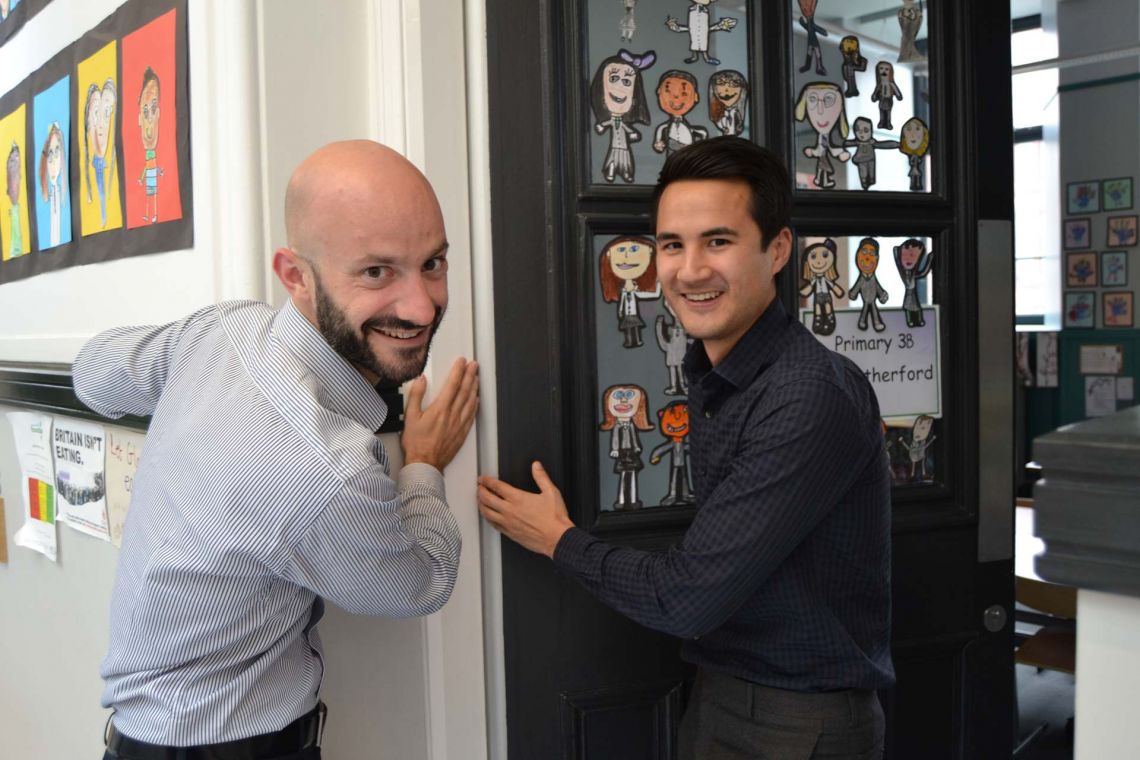 The problem of trapped fingers
The number of children who were admitted to hospital after trapping their fingers in door hinges was staggering. A report by the Royal Society for the Prevention of Accidents revealed that around 30,000 children trap their fingers in doors each year - 1500 of those requiring surgery due to the severity. What can seem like a minor accident, can in fact have life-long effects.

Designing out the problem
So we set out to find a solution. At that time, the only means of protecting fingers from being trapped in door hinges was through the use of retrofit finger guards - such as plastic or roller blind options. In high traffic areas such as schools, these types of finger guards were having to be replaced as often as every six months in SEN schools and 12 months in primary schools.
We wanted to design a solution that removed the risk entirely instead of applying a temporary fix.

Creating the world's first integral finger guard
With this in mind, we began the ideation process. We spoke to everyone who had an interest in finding a better solution for schools: teachers, architects, pupils, maintenance managers, contractors, health & safety officers. After collating all of the feedback, we came up with a 'no compromise' checklist for our product:
Safe
Durable
Discreet
Good value for money
Believe or not - it was in fact a conversation about the difference between volleyball and basketball that sparked the lightbulb moment. As we discussed the key difference being that in volleyball you stand in the same position but pivot, I thought... could the same logic be applied to a door hinge?
Working on this basis, we created Alumax: a rounded aluminium finger guard built into the door; maintaining a 2mm gap when it's opened and closed that's too small for fingers to get trapped in.


Patented technology
We knew from our market research that this hadn't been done before. So we filed a patent and have been the only ones to offer an integral finger guard since!
Department for Education approved
We've since gone on to work with over 70% of Local Education Authorities across the UK; supplying over 100,000 integral finger guards. That in itself continues to be a huge achievement - not just for Martin and I, but for the whole SHP team who go above and beyond to maintain the quality in our products and service.
The recognition from the Department for Education is extremely humbling. We knew right away we had created something special - and the proof is in the continued commercial success of Alumax - but to see that acknowledged in government guidance is a different story!
A sincere thank you to everyone that we've worked with to get us to this point.


---

As part of Education Estates Digital Week, we hosted a webinar focusing on designing in safety and designing out maintenance liabilities using our integral finger guard.