Every year around 30,000 children trap and seriously injure their fingers in doors across the UK, resulting in 1500 surgery admissions and 600 amputations.1
In October this year, the Education Authority for Northern Ireland (EANI) published a Safety Alert regarding finger entrapment,highlighting that young children and children with additional support needs are at greater risk of finger entrapment.
The alert advises that a risk assessment should be carried out across all doors, with finger protection devices fitted to doors with trapping hazards on the hinge side.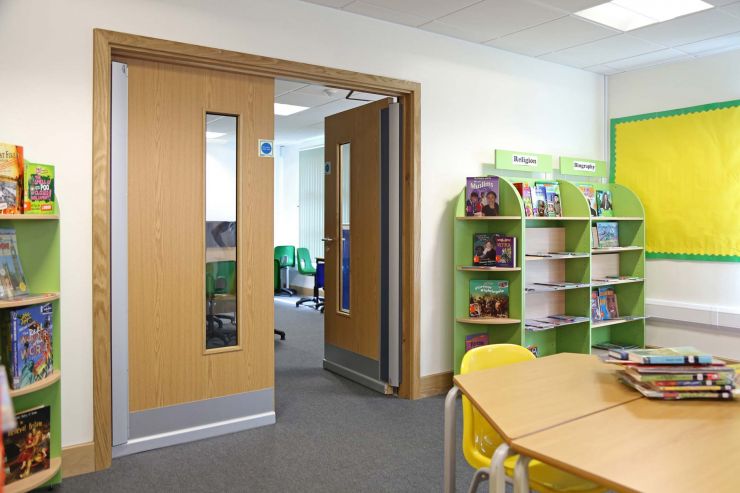 In cases like Northern Ireland, where safety guidance is issued across the region, a retro-fit solution is ideal. New to the business, I've been speaking with LEAs, architects and our ironmongery and door manufacturer partners about what makes our finger guards the market leader. I thought I'd share some of what I've been learning…
Retro-fit Finger Ejecting Guard
Retro-fitted to existing doors in 15 minutes, regardless of opening angle and with minimal impact on opening forces, our patented finger ejecting guard Alumini ensures you remain compliant with the Equality Act.

Clients looking for a retro-fit solution are often replacing failing plastic guards every year. Engineered to last, Alumini reduces maintenance costs — saving £300-500 per door over 25 years.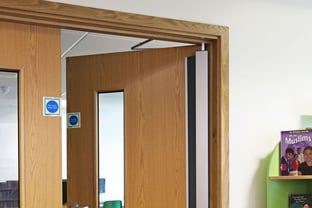 ALUMINI
Our finger guards are safe — passing what headteachers call the 'pencil test' and designed for the rigour of schools.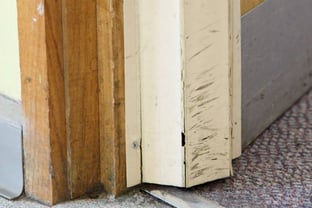 PLASTIC
Plastic finger guards typically fail every 6-24 months and can cost a lot over the school's life.
Designing out the problem of trapped fingers, the uniquely designed Alumini provides superior finger protection with a semi-circular aluminium body retracting into the hinge gap, while the tear-resistant fabric covers any remaining gaps. It looks discreet and is backed by a 10-year manufacturing warranty.
The Impact
Finger safety isn't always high on the agenda, however finger entrapment can have an impact on a child's educational development. Each year, around 1,500 finger trapping incidents across the UK require surgery, with 600 resulting in amputation 2. The consequences of finger entrapment can be debilitating, with extended periods of limited writing or drawing ability. It's great to see the EANI giving finger safety the attention it requires.