Using art as a means of expression and therapy is widely considered to be a powerful tool in helping people through vulnerable times.
One organisation that is paving the way for inpatient art therapy is Hospital Rooms. Tim A Shaw and Niamh White set up the charity in 2016 after visiting one of their close friends in an inpatient facility where they describe being 'shocked to find that the hospital environment was cold and clinical at a time when she was so vulnerable.'
Having worked in the arts for over ten years, they felt passionate about using their skills to help improve the environment for patients through contemporary art.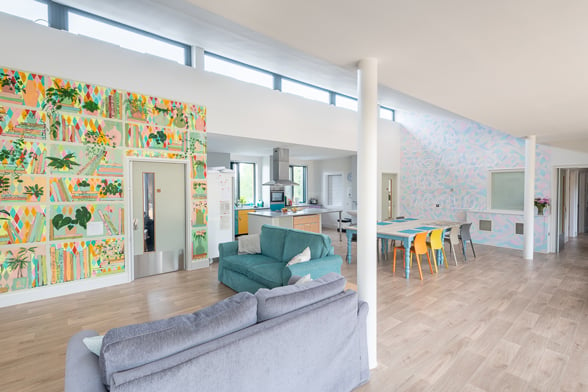 Jasmine Lodge Mother and Baby Unit (MBU), Devon Partnership NHS Trust

Connecting through the screen

Much like so many different organisations, Hospital Rooms have had to adapt to restrictions imposed by Covid-19.
In the absence of physically visiting wards to create artwork, they set up the Hospital Rooms Digital Art School as a means of keeping people connected through creativity.

We asked co-founder Tim Shaw to explain the format of the Digital Art School:
"The Hospital Rooms Digital Art School is a weekly live programme of digital art workshops which is free to all mental health units.
The artists leading the sessions include some of the best arts educators in the country, and every week dozens of mental health units create art together in inpatient wards including acute, secure, rehabilitation, psychiatric intensive care, mother and baby and adolescent units."
How do I take part?
The live workshops take place every Thursday at 2pm GMT and are free to join for anyone - simply sign up here.
You can also catch up on the recordings of previous workshops which are all available to watch and enjoy here

.